You are here
Indiana Citizens' Group Exposes False Promises of Proposed Plastic Waste to Fuel Plant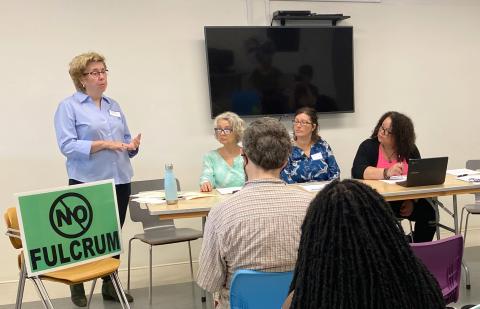 A new report compiled by Valerie Denney, a long-time communications adviser to IPEN, warns that a plastic waste-burning "bioenergy" facility proposed for the city of Gary, Indiana (about 30 miles south of Chicago on the shore of Lake Michigan) will cause major health and environmental problems. The report notes that negative impacts from the plant operations will include threats to residents' health, natural resources, and the city's future as a sustainable community.
The report, a review of publicly available literature on the waste-to-fuel proces, was produced for the local citizens' group opposing the plant, Gary Advocates for Responsible Development (GARD). The report compares the claims made by Fulcrum Centerpoint, the company planning the $600 million trash to bio-jet fuel plant, against the public record of such plants. While Fulcrum states that it will produce a net-zero carbon fuel, Denney's report finds that this and other company claims are demonstrably false.
"The reality is that the Fulcrum operation will consume more energy than it will ever produce and if it ever does produce fuel, it will release carbon dioxide into the air when it is burned and it will contribute to climate change," Denney told the Post-Tribune. "Waste-to-fuel schemes have been piloted and tried since the 1970s, and no one in the world has succeeded in producing fuel from garbage on an ongoing, commercial and profitable scale."
The report also exposed Fulcrum's false claims about the gasification process it plans to use in the plant. While gasification is promoted as safe and non-polluting, Denney said it produces toxic by-products, especially when the raw materials include plastics. At least 30% of Fulcrum's feedstock will come from plastic, she said.
"Most plastics contain highly toxic chemicals. There is no way to know what kind of chemicals or other toxic substances will be present in the rest of the garbage that Fulcrum plans to use," Denney told the Tribune.
GARD members called for greater public involvement in reviewing the planned plant and urged city officials to halt the process until the information in their report can be reviewed and the company's planned plant in Nevada becomes fully operational. GARD is also in the process of appealing the Indiana Department of Environmental Management's approval of Fulcrum's air quality permit for the site.
Click here to see the GARD report, factsheets, press release and the Valerie Denney's statement at the September 21, 2022 GARD press event.