In its work to leverage the Minamata Convention on Mercury (the Mercury Treaty) for on-the-ground change to reduce mercury pollution, IPEN launched its International Mercury Treaty Enabling Activities Program (IMEAP) in 2014. The IMEAP program includes:
Surveying ongoing and planned treaty ratification and implementation activities by NGOs, Intergovernmental Organizations and other agencies, to identify potential strategic NGO Mercury Treaty-enabling activities;
Conducting Mercury Treaty-enabling activities to promote Treaty ratification and implementation; and
Communicating and assessing progress in implementation.
The projects are aligned to key themes of the Mercury Treaty, including;
Mercury Country Situation Reports
National Public Awareness activities
Mercury Hot Spots and mercury waste (contaminated sites) including storage.
Mercury Supply & Trade
Industrial emissions and releases (unintentional sources)
Large-Scale Mining emissions and releases (unintentional sources)
Mercury in products (intentional sources)
Mercury in ASGM (intentional sources)
Industrial processes. (intentional sources)
Key documents from each project will be uploaded to the IPEN website to provide a record of the activities as well as a resource for NGOs and researchers seeking to expand awareness of mercury pollution issues and replicate projects across regions to support the implementation of the Mercury Treaty. A key feature of most IMEAP projects is to create opportunities for engagement between NGOs and government authorities to jointly consider their national mercury pollution issues and develop inclusive, forward-looking processes and policies to address them.
Projects:
ALBANIA: EDEN Centre- Let's keep control on the mercury around us!

ARGENTINA: Taller Ecologista- Situación Nacional del mercurio en Argentina y Cinco Saltos: un sitio contaminado con mercurio

ARMENIA: Armenian Women for Health and Healthy Environment (AWHHE)- Mercury Country Situation Report by Armenian Civil Society Sector

BANGLADESH: Environment and Social Development Organization (ESDO)- Mercury Country Situation Report

CAMEROON: Centre Optionnel pour la Promotion et la Régénération Economique et Sociale Secteur Afrique (COPRESSA)- Investigating Management of Mercury and its Wastes in Artisanal Gold Mining in the Benue National Park in the Republic of Cameroon
CZECH REPUBLIC: Arnika Association- Mercury in the Chemical Industry - A Toxic Legacy in the CEE Region
CZECH REPUBLIC: Arnika Association- Impact of heavy metals from Balkan power plants on inhabitants and the environment
ETHIOPIA: Pesticide Action Nexus (PAN) Association-Ethiopia- Supporting the national ratification and early implementation of the Minamata Convention on Mercury

GHANA: Ecological Restorations- National Public Education and Awareness Creation on the Minamata Convention
INDONESIA: BaliFokus- Established and strengthened health professional, community and NGOs capacities for prevention, diagnosis, treatment, and monitoring of health risks related to mercury exposure from selected ASGM hotspots of Indonesia and the Philippines

IVORY COAST: Jeunes Volontaires pour l'Environnement (JVE)- Awareness Campaign on Mercury used in ASGM: impacts and Promotion of Mercury-Free Techniques in ASGM

JORDAN: Land and Human to Advocate Progress (LHAP)- Jordan Country Mercury Situation Report
KAZAKHSTAN: "Greenwomen" Analytical Environmental Agency- National Public Awareness Activities

KENYA: Centre for Environment Justice and Development (CEJAD)- Inventory and mapping of mercury use in Artisanal Small Scale Gold Mining (ASGM) sites in Migori, South Western Kenya

KYRGYZSTAN: Independent Ecological Expertise- Public Participation in Conducting Independent Monitoring

LEBANON: IndyAct- National Public Awareness Campaign

MEXICO: Red de Acción sobre Plaguicidas y Alternativas en México (RAPAM)- Challenges for early ratification of the Minamata Convention in Mexico in the mercury supply and trade
NEPAL: Center for Public Health and Environmental Development (CEPHED)- Strengthening Mercury Free Health Care Campaign in Nepal through National Level Public Awareness

PARAGUAY: Alter Vida- Mercury in Energy–Saving Lamps

PHILIPPINES: EcoWaste Coalition- Market Investigation on the Illegal Importation of Mercury-Containing Skin Whitening Creams in the Philippines
RUSSIA: Ecological Center "Dront"- Provision of Preconditions for Organisation of Collection of Burnt Mercury-containing Bulbs from Residents of Nizhniy Novgorod and Nizhegorodskaya Oblast

RUSSIA: Eco-SPES- Mercury Hot Spots and Mercury Waste in Nizegorodsky District, Russia
RUSSIA: Volgograd Ecopress- Mercury Hot Spot in Krasnodar Region, Russia

SERBIA: ALHem- Safer Chemicals Alternative- Serbian Response to Global Mercury Treaty

TOGO: Alliance Nationale des Consommateurs et de l'Environnement (ANCE)- Awareness on the Harmful Effects of Mercury and the Need for Policy Change

UGANDA: Pro-biodiversity Conservationists in Uganda (PROBICOU)- Creating Public Awareness about the Minamata Convention on Mercury and Mercury Pollution in Uganda

URUGUAY: Red de Acción en Plaguicidas y sus Alternativas para América Latina (RAP-AL) - Generate public awareness in relation to a chlor-alkali plant, products containing mercury and the use of dental amalgam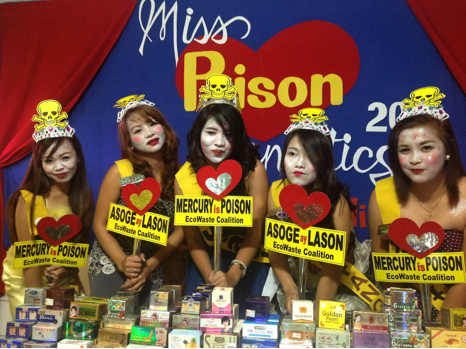 IPEN gratefully acknowledges IMEAP donors, including, amongst others, the governments of Germany, Sweden and Switzerland, and the Swedish Society for Nature Conservation.