Over 30 IPEN organizations participated in the 2018 International Lead Poisoning Prevention Week of Action (21-27 October), sponsored by the World Health Organization (WHO) and United Nations Environment. See below for information about their activities. This was the sixth year that IPEN has played a strong role in the Week.
The World Health Organization, UN Environment, and Global Alliance to Eliminate Lead Paint (GAELP) put together a resource package as guidance through the week, and also provided a Question and Answer session about lead paint and health.
Argentina
Taller Ecologista held a public event to explain the advances in the changes of the lead legislation in paints from 600 to 90 ppm. Officials from the Directorate of Sustainable Development and the Ministry of Health were invited to report on the situation in the country regarding lead in paints, controls, and public policies to promote paints for lead-free homes. Another public event was held at the Ecological Library (Southern Zone of the city of Rosario) where a report was presented describing the situation of lead in paints in Argentina and current legislation, as well as other sources of lead contamination.
Armenia
The Armenian Women for Health and Healthy Environment (AWHHE) conducted awareness raising activities on lead in paints in educational institutions in Yerevan. A poster informing the public about the hazards of lead in paint was printed and distributed to schools as well as polyclinics. AWHHE met school administrators and parents and students groups and urged them to demand disclosure of lead content of paints sold in the market. AWHHE also organized a radio program to draw attention to the International Lead Poisoning Prevention Week and speak about the outcomes of the awareness-raising activities in target schools.
Azerbaijan
The Ecological Society "Ruzgar" organized a press conference on lead contamination of household paints in Baku-Sumgait. The group chose the theme "Protect Our Children from Lead Poisoning" to emphasize the vulnerability of children below six years of age, as well as babies in the womb, and the need to protect them against lead exposure. Aside from journalists, the press conference also drew participants from concerned NGOs, scientific experts, pediatricians, and paint manufacturers. Read Ruzgar's agenda and press release here. Below is a photo from the press conference.
Bangladesh
The Association for Community Development (ACD) organized a Dialogue on 'Learn the Risks and Ban Lead Paint' with Government officials, district administration, academicians, journalist, students, community based organizations, non government organization and healthcare professionals. Coverage of ACD's week of action can be found in Bengali here, here, and here.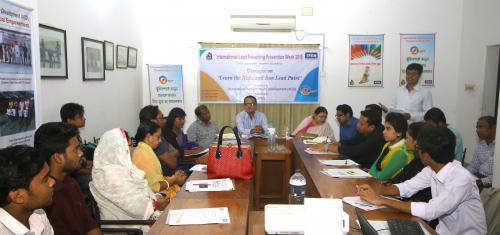 The Environment and Social Development Organization (ESDO) organized a rally and human chain involving representatives from various sectors to push for a ban on lead paint. A dialogue was held with the Department of Environment, Bangladesh Standards and Testing Institution, Bangladesh Paint Manufacturers' Association, academicians, healthcare professionals, journalists and non-government organizations to discuss the problems with lead-based paints and the need for a lead paint law to be adopted. A policy advocacy meeting was held to push for the finalization of the regulation banning lead paint in Bangladesh by 2018. The Bangladesh Standards and Testing Institution had earlier announced a recommended 90 parts per million (ppm) total lead content limit for household paints. ESDO also encouraged paint manufacturers to obtain third-party lead safe paint certification. Coverage of ESDO's week of action can be found here and here.
Cameroon
The Centre de Recherche et d'Education pour le Développement (CREPD) advocated for the effective implementation of the country's lead paint regulation. Aptly themed "Lead Paint Hazard is Still on the Corner," CREPD reminded government authorities and industry on the need to enforce and/or comply with the lead paint regulation through letters, e-mails, phone calls, and social media posts. Also, an advocacy letter was sent to the President of the Central Africa Economic Community to request the regional organisation to build on Cameroon's regulation to develop a harmonized community standard or regulation on lead in paint to avoid potential double standard. Read CREPD's press release about their week of action here.
Colombia
COLNODO/Red de Desarrollo Sostenible held an event around the theme "Reduce the Risk of Lead in Schools." It promoted the creation of lead-free spaces for children in schools. Manufacturers committed to the production of lead-free paints were invited to join this initiative.
Côte d'ivoire
Jeunes Volontaires pour l'Environnement (JVE) convened a round table discussion focusing on the proposed text for a draft regulation on lead paint. Target participants included lawmakers and representatives from paint industry, civil society and the media.
Egypt
The Kenana Association for Sustainable Development organized a National Workshop on Sustainable Consumption and Production, with a focus on lead and lead poisoning prevention. It featured an in-depth lecture about the dangers of lead, where lead exists, the risks of lead exposure, the lead poisioning prevention week, and the group's mission. This was followed by group discussions about lead poisoning and ways to prevent and reduce lead poisioning risks in the environment and indistrial processes. The workshop ended with the signing of a declaration to ensure participants' commitment to the points raised and the agreed action plan.
Gambia
Young Volunteers for the Environment (YVE) held a "National Stakeholder's Forum on Lead in Paint" to serve as a platform to present how lead-containing paints affect human health and the environment, and what initiatives are needed to phase out such paints. The dialogue involved over 35 participants from different sectors to support the development of a new lead paint law and the integration of the phase-out plans on lead paints into national development frameworks.
Guinea
Carbone Guinée conducted a "diagnostic study" for the regulation of lead paints and the problems related to the application of a regulation in Guinea. Through this effort, the group hopes to assess current regulatory and legislative policies corresponding to paints, consolidate the basis for coming up with a regulation, and propose recommendations to political decision-makers toward the regulation of lead paint in Guinea.
India
Toxics Link conducted an assessment of compliance of lead in paint regulations in India, as well as raised awareness on lead paint hazards. The group kick started an awareness drive highlighting the issue of lead in paints through sample testing, report launch, roundtable meeting and awareness program during the Week of Action, which will continue until the end of the year to expedite the effective implementation of India's "Regulation of Lead Contents in Household and Decorative Paints Rules, 2016." See media coverage from their week of action here, here and here. Toxics Link was also interviewed on an Indian radio talk show in New Delhi during the week of action. The theme of the show was Lead in Paints and the discussion points were about harmful effects of lead, government initiatives on the issue and public awareness. Below is a photo from the interview.
Indonesia
BaliFokus promoted "Lead-Safe Paint Certification as Best Practice of Responsible Business." During the Week of Action, Balifokus encouraged paint companies to participate in third-party lead safe paint certification as an expression of their corporate social responsibility. The group will continue with its advocacy toward the adoption of a mandatory lead paint regulation in Indonesia.
Iraq
Together to Protect Human & Environment Association called for a press conference on October 25 to release its joint study with IPEN on "Lead in Solvent-Based Paints for Home Use in Iraq." Prior to this, awareness-raising seminars about the hazards of lead paint were held on October 21 and 23 at the Anbar University and Basra University, respectively.
Jamaica
The Caribbean Poison Information Network (CARPIN) organized a public forum and "think tank" discussion on the public health implications of lead exposure through paint for children. Information was disseminated through the print media, social media and interest groups. CARPIN also released its joint study with IPEN on "Lead in Solvent-Based Paints for Home Use in Jamaica" during the week.
Jordan
Land and Human to Advocate Progress (LHAP) sustained its effort to promote the adoption of a national legislation on lead-free paint in Jordan. The group printed an updated brochure about the issue, developed a discussion and negotiation paper, and organized a series of meetings with key institutions to garner support for the envisioned lead paint law.
Kazakhstan
Greenwomen Analytical Environmental Agency stepped up its advocacy for the elimination of lead paint. An online campaign among the multistakeholder members of the "Toxic-Free Future" group highlighted the major problems associated with the presence of lead-containing paint in Kazakhstan. The group urged the government to stop the manufacture and sale of lead-based paint, minimize workers' exposure to lead in paints, and improve the relevant legal framework through a series of statements, discussions and meetings. It also prepared video/telephone/social media appeals on the dangers of lead. Below is an infographic from the week of action.
Kenya
Back to Basics organized a school training program on the theme "Lead Paint is Deadly, Never Use It!" To protect children from the health risks posed by lead paint, there is a need to implement Kenya's standard to manage the abatement of lead paint in buildings that children inhabit, including schools, the group said.
The Centre for Environment Justice and Development (CEJAD) organized an awareness raising activity to sensitize primary school heads and teachers in Nairobi about the hazards of lead paints and the need to choose lead-free paints, particularly in painting or repainting schools, to reduce lead exposure among children. The activity seeked to ensure that whenever schools intend to repaint their facilities, the paints to be used are checked before repainting is undertaken.
Malaysia
The Consumers' Association of Penang (CAP) observed the Week of Action in advance by participating at the Asia Pacific Coatings Show in Kuala Lumpur on September 13. Speaking on behalf of CAP and IPEN, Hatijah Hashim talked about the campaign to eliminate lead paint in Asia and globally and the need for unified action. "The paint industry in the Asia Pacific region is thriving buoyed by the increase in infrastructure projects in many countries. Continued use of lead paint will result in more children getting poisoned by lead, which renders irreversible damage to human body… Ethical manufacturers need not wait for government controls before they act. Now is the time to end all manufacture and sale of lead paints," she said.
Mexico
Casa Cem - Vías Verdes A.C. , based in Guadalajara, held a press conference to release its joint study with IPEN on "Lead in Solvent-Based Paints for Domestic Use in Mexico." The study covers 118 cans of solvent-based paints representing 39 different brands from 38 manufacturers. Prior to the public release of the report, Casa Cem reached out to national and local paint manufacturers to apprise them of the results of the study and the relevant recommendations. Sofia Chavez Arce of Casa Cem was interviewed about the dangers of lead paint just after the week of action.
Moldova
EcoContact initiated a "Lead Free Kids for a Healthy Future" social media campaign to inform the public about the health effects of lead exposure via lead in paint and dust, and to push for the implementation of the national strategy to eliminate lead paint in Moldova. Through this campaign, EcoContact hopes to reach "one strategic group which suffers the most (from lead exposure) and are not being informed, including families with children, mothers, caretakers, etc."
Morocco
The Moroccan Society of Clinical and Analytical Toxicology (SMTCA) through Dr. Naima Rhalem presented the highlights of the study it conducted with IPEN regarding "Lead in Solvent-Based Paints for Home Use in Morocco" at the 7th International Congress of Toxicology in Rabat. The congress included a session on heavy metals, which raised awareness about the availability of lead paint in Morocco and the need for a lead paint regulation to be promulgated.
Nepal
The Center for Public Health and Environmental Development (CEPHED) organized a series of activities aimed at popularizing and strengthening the enforcement of Nepal's lead paint standard. A press meeting in Kathmandu took place on October 21 to kick off the Week of Action. Read the press release here. During the week, special public service announcements were aired on selected radio and TV programs to publicize the country's lead paint law. An interactive meeting involving concerned stakeholders was also held in Bharatpur and Kathmandu to discuss the effective implementation of the country's lead paint standard.
The Society for Legal and Environmental Analysis and Development Research (LEADERS) conducted a blood lead level testing for children under the age of two. It targeted the children of workers living within paint industry compounds. LEADERS also held an awareness-raising program for paint workers.
Philippines
The EcoWaste Coalition and the Philippine Association of Paint Manufacturers (PAPM) jointly conducted a skillshare on October 22, 2018 for about 150 people, mostly painters, that equipped them with practical knowledge and skills on safe work practices to protect themselves and their clients from lead exposure during painting, maintenance, repair and renovation activities. This was followed by a Clean Production Seminar on October 24, also organized by the EcoWaste Coalition and PAPM, and featured visiting expert Dr. Gregory Morose who talked about "Safer and Effective Alternatives to Methylene Chloride for Paint Stripping Products." Prior to these events, the EcoWaste Coalition on October 14 released a new report about the presence of lead on paint brushes, which are often used for street food preparations. The group also spoke at two events organized by the Department of Environment and Natural Resources on October 3 (a seminar) and 13 (a radio program) as part of the observance of the International Lead Poisoning Prevention Week.
Russia
Eco-Accord organized a "Lead Poisoning Prevention: Public Awareness Raising and Multistakeholders Dialogue" that discussed, among other things, lead paint risks and perspectives to solve the problem, and recommendations on how to improve the national and the EEU regional legislation on lead in paint. The Zoom teleconference involved 50 participants from NGO network on chemical safety at the Eastern Europe, Caucasus and Central Asia (EECCA).
Sri Lanka
The Center for Environmental Justice (CEJ) raised public awareness about lead in paint and its detrimental effects to human health by printing 1,000 stickers, which were distributed to buses, trains, and in public places. It also reprinted CEJ publications on lead. There was also a plan to paint children's playgrounds and children's wards with lead-safe paints in cooperation with certain paint companies.
Taiwan
The Environmental Quality Protection Foundation (EQPF) held an 80-minute "Toxic-Free Campus" circuit teaching event for school children age six to 12. The event is part of EQPF's plan to "go to 50 elementary schools, reach over 5,000 students, and bring the concept of chemical safety to them," including the issue of lead in paint.
Tajikistan
The Foundation to Support Civil Initiatives (Dastgiri-Centre) sponsored a round table discussion in Dushanbe to promote mandatory removal by companies of non-compliant paint products from the market; push for the enforcement of the penalty provision under lead paint regulation; and encourage companies to assure consumers about paint products conforming to the regulatory requirement. Target participants included the State Committee of Environment under the Government of the Republic of Tajikistan, Ministry of Health, Tajikstandart, Academy of Science, and representatives from the industry and the civil society.
Togo
Les Amis de la Terre-Togo (ADT) organized an activity that will develop a draft text, with inputs from concerned parties, to regulate the manufacture, distribution and sale of lead paint in Togo. The draft text was presented to the Togolese government for their consideration to advance the effort to eliminate lead paint in Togo.
Tunisia
The Association de L'Education Environnementale pour les Futures Générations (AEEFG) organized activities to promote proper labeling of paint products without added lead, and to promote the technical guidelines prepared by IPEN for replacing lead-oxide in anti-corrosive paints in Tunisia. AEEFG organized a conference with a chemistry engineer at the University of Science Tunis. See event details here. Below is a logo launched during the week of action jointly with AEEFG and Astral, a paint company in Tunisia. Astral made a donation in order to paint a classroom with lead-free paint. Read AEEFG's press release (in French) here.
Ukraine
"MAMA-86" continued its policy advocacy to finalize the technical regulations on the limitation of lead in paints. It raised awareness on the health risks of lead paint, especially in kindergartens and schools, for teachers and leaders of children's educational institutions. "MAMA-86" also conducted a media campaign on the chemical safety of children's playgrounds.
Vietnam
The Research Centre for Gender, Family and Environment in Development (CGFED) held a communication workshop to raise awareness on the health risks posed by lead-containing paint, especially in the schools. Target participants included school teachers and leaders in Hai Hau district, Nam Dinh province. At the workshop, CGFED shared the results of its joint study with IPEN on "Lead in Solvent-Based Paints for Home Use in Vietnam," as well as the key campaign messages from IPEN, World Health Organization and UN Environment regarding lead paint. During the workshop, the participants also discussed the solutions to eliminate the lead's exposure. For people in Hai Hau community, the key is to raise awareness of the harmful of home decorative paints. If there is no alternative way, let's use reputable and branded paint. For schools, there must be assurance that children's toys were safety standards. For local authorities, strengthening the management of paint brands and distinguish lead paint at the shops in the area and warning people about toxic paints are most important.
Zambia
The Children's Environmental Health Foundation (CEHF) continued with its push toward the development of a legally-binding standard and regulation on lead paint in Zambia. A high ranking minister was invited to the event launch on October 21. On October 24, CEHF promoted the phase-out of lead paint as the nation celebrates its 54th year of independence. On October 26, CEHF gathered various stakeholders from the government, industry and the civil society to recognize their contributions in the ongoing efforts to protect public health through the adoption of a lead paint law.