You are here
Jordan National Situation Report on HHPs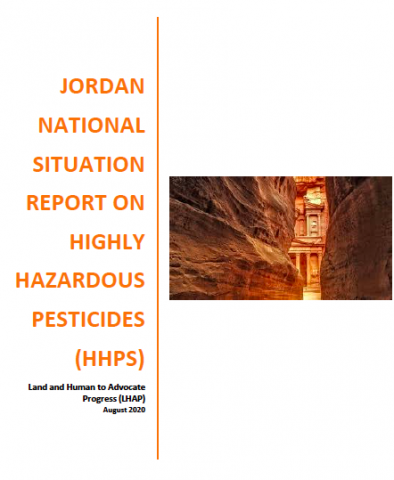 This report gives an overview of the current situation of highly hazardous pesticides (HHPs) in Jordan and describes the national pesticide registration and control policy framework, the pesticides in use in Jordan and general data on volume, threats of pesticide use to public heatlh, and more. It concludes with the recommendations that Jordan needs to:
create a list of HHPs by comparing the registered pesticides to the Pesticide Action Network list of HHPs;
launch a general awareness and education program addressing farmers about workers handling pesticides;
review the current regulations for reform and update;
enforce its Agricultural Organic Law for the year 2016;
undertake a continuous enabling program for farmers, agriculture workers and workplace managers to ensure safe use procedures;
provide support to help NGOs do parallel or joint work to the governmental authorities to educate, train, monitor and raise awareness about pesticides with farmers, agriculture engineers and public health officers, in close cooperation and collaboration with these authorities; and
carry out more studies in order to examine the impact of pesticides on the air, water, soil and vegetables.
This report relates to Sustainable Development Goals 2, 3, 6, 8, 12, 13, 14 and 15.
Special thanks to IPEN's Middle East and North Africa (MENA) Regional Coordinator Semia Gharbi and IPEN"s MENA Regional Hub AEEFG for their important contributions to the development and finalization of the project.