Armenia
Armenian Women for Health and Healthy Environment (AWHHE), an Armenian NGO, hosted a screening event of Stories from the Clean Room in Yerevan, Armenia, July 2018 with a discussion of toxics in electronics.
Indonesia
On the 28th of June, "Stories from the Clean Room" was screened in Bogor, Indonesia, co-hosted by the Gibbon Foundation, as part of a monthly discussion series on any topics concerning NGO partners or affiliates. The screening consisted of NGO activists, lecturers and students of IPB (Bogor Agriculture Institute). Discussion after the screening triggered some questions and strong statements, such as:
Is it possible to certify the gadgets with "Halal Certification?" One participant said that the Halal certification should be extended by "Toyib" so it will be "Halal & Toyib Certification." Toyib is an islamic term to describe responsible supply chain.
Consumers must be better educated in order to make responsible decisions when buying electronics.
Governments should enforce the regulations, especially the rights of workers to form unions.
Participants requested to be stay informed and proposed to establish a mailing list about electronics.
On the 29th of June, a screening of "Stories from the Clean Room" was co-hosted by Greenpeace Indonesia, and took place at their office in Jakarta. This screening was well attended by 40 people representing various NGO groups, including the Indonesian Association of Labour Union (Gabungan Serikat Buruh Indonesia or GSBI) and a couple of representatives of Longvin workers (supplier of Samsung's headsets, earphone, etc.), Konfederasi Serikat Pekerja Indonesia (KSPI), Yayasan Kanker Indonesia (Indonesian Cancer Foundation), JATAM, WALHI, ICEL, etc. Some points raised after the screening:
Representative from PT Longvin Indonesia: Although PT Longvin only produces headsets for Samsung, after watching the film, they confirmed that they also heard some health complaints like those in the film although not as severe as the South Korean cases. Most of the workers are female workers.
Representative from GSBI said that a couple of months ago, GSBI invited several Samsung workers in the Bekasi factory to join GSBI. As a consequence for joining the meeting, a couple of days later, three workers from Samsung were fired immediately. Before they were fired, they also received death threats from people believed to be hired by the company.
The head of GSBI said that in 2012, they coordinated a big protest targeting Samsung, but the protest was not completed and GSBI received threats as a result.
A medical doctor from Yayasan Kanker, Indonesia said that it will be good if we can collaborate and conduct early detection of cancer to prevent patients or workers from severe cancer diseases. Reporting and recording system related to occupational health and safety should be accessible by the workers.
A medical doctor from Fit2Work OHS (consultant) noted that a continuous survey in several key hospitals such as Dharmais Cancer Hospital, Heart Disease Hospital, Lung Disease Hospital Persahabatan, etc., should be established to allow NGOs or the Ministry of Health to get background information about a patient, in order to have a better understanding about the potential cause of the disease.
Greenpeace and WALHI noted that we need to keep the pressure on the industry to disclose the chemicals content in their products and inform their workers.
A representative from the EWasteRJ community said that electronics are not only problematic during the manufacturing process, but until the end of their lifecycle. We still do not have proper e-waste processing facilities in Indonesia.
On the 4th of July, a 3rd screening was conducted in Indonesia (Surabaya), co-hosted by GEMA Indonesia (Gerakan Masyarakat Indonesia), a network of inter-faith, anti-racial solidarity groups. The screening was well attended by 50 people from various organisations and members of GEMA Indonesia. Some points raised after the screening:
Labour unions need to be reached out to further. They need to be empowered, especially to ask for their rights and better protection of their occupational health & safety.
We need to raise the awareness of consumers about electronics and their associated impacts, from the beginning of the line (production) until the end of the stream (wastes). All electronics products should declare what hazardous substances or harmful chemicals are contained in their products.
Workers should receive better protection and should be informed about the risk of their jobs.
Nepal
"Stories from the Clean Room" was screened at the Nepal Academy of Science and Technology in Khumaltar, Lalitpur at an interaction program jointly organized by Network of Occupational Safety and Health Nepal (NOSH-Nepal), Nepal Academy of Science and Technology (NAST), and Center for Public Health and Environmental Development (CEPHED) on the occasion of World Environment Day 2018. The program was opened by Mr. Durga Pd Dawadi, Director General of the Department of Environment.
About 75 personnel from different governmental ministries, non-governmental organizations, scientific institutions, media, industry, schools, health offices, and United Nations agencies were present for the program.
Three papers related to occupational safety and health were presented. Mohan Katuwal, President of the Federation of Grill and Steel Fabricators and Vice President (Objectives) of the Federation of the Nepal Chamber of Commerce and Industries stressed the need to fully acknowledge the issues of occupational safety and health at working places and make business more health and environmentally friendly.
Prof. Dr. Sunil Kumar Joshi stressed the need to recognize employees who suffer from occupational diseases and to provide all the protective and rehabilitation measures. He also highlighted the ICOH (International Commission on Occupational Health) role in recognizing the semiconductor industry victims in Korea and that a similar initiative needs to be made in Nepal.
Egypt
On Saturday, July 21, 2018, Kenana Association for Sustainable Development in collaboration with Sherouk Association in Menia/Egypt, screened Stories from the Clean Roomto increase awareness on the hazardous conditions in the semi-conductor industry.
The film premier was attended by several local activists in the governorate and received massive attention from civil society.
Following the display, the senior officer at Sherouk highlighted that this documentary is a collaboration between IPEN & SHARPS and puts a human face to this public health crisis.
The showing was followed by a debate among attendants and specific discussion points in relation to the importance of setting a roadmap to reduce such incidents in this important industry and ensure the health and safety of the workers.
India
The first screening of "Stories form the Clean Room" in India was shown in the Dausa district- India on August 11, 2018. A total of 73 people participated including educators, college students, NGO representatives, traders, electronic mechanics, mobile phone charger manufacturers, social workers, and media.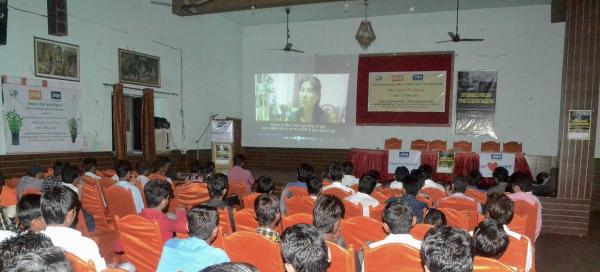 Kenya
The screening in Kenya was hosted by Environmental Compliance Institute (ECI) on July 18th. 40 guests attended with representation from government, industry, informal business sector, and civil society, including community based organizations and trade associations. Kenya's SAICM Coordinator, Mr. Francis Kihumba, was also a notable attendee. The film generated a lot of awareness and interest among the participants and was organized jointly with the Ministry of Environment and CEJAD.
China
On August 3rd in Hong Kong, Greeners Action hosted a successful screening of the film for an audience of about 20 people. The audience expressed their support and gratitude for SHARPS. Greeners Action will host a second showing on the 31st of August in the evening.
Togo
Social Action for Integral Development (ASDI) is a Togolese non-governmental organization working on the management of electrical and electronic equipment waste, training and sustainable agriculture. On June 29th, they held a showing of Stories from the Clean Room in Togo. To read a press release from the screening, click here.