At-A-Glance Views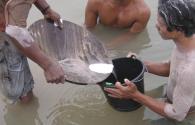 Exposure to high levels of mercury can permanently damage the brain and kidneys and has been shown to affect a developing fetus, even months after the mother's exposure. In the aquatic environment, mercury can be transformed into methylmercury, a compound that is more toxic at low doses than pure mercury, absorbed by sea life, and then ingested by humans and other animals that eat seafood.
In 2009, recognizing the current impacts and continuing threats of ongoing mercury contamination, governments of the world agreed to start negotiations on a global, legally binding mercury treaty with the goal of finishing within four years. In January 2013, the fifth and final session of the Intergovernmental Negotiating Committee (INC5) to prepare the treaty took place in Geneva, and it reached agreement on the text of the new treaty.
IPEN attended and contributed to every negotiating committee meeting during the four years of negotiations. Please find information about IPEN's participation via the tabs (INC1- INC7) to the right, under "conferences," as well as information about the Diplomatic Conference (DipCon) for the signing of the treaty.
Please find information about projects undertaken to implement the mercury treaty on IPEN's International Mercury Treaty Enabling Activities Program (IMEAP) page.